Description
ترتقي سماعات هواوي 4 بإلغاء الضوضاء النشط المفتوح إلى آفاق جديدة ، حيث تتضمن تقنية مطابقة الأذن التكيفية الجديدة كليًا لغمر صوتي أكبر، يسمح التصميم المفتوح ببقاء ضغط الهواء متساويًا ، مع ضمان استمرار سماع الأصوات البيئية المهمة ، لتجربة ارتداء أكثر أمانًا وراحة حتى بعد ساعات طويلة من الاستخدام.
In Tune with You
Every ear is different. That's why HUAWEI FreeBuds 4 uses adaptive ear-matching technology to detect your unique in-ear shape and how you wear the earbuds, then intelligently selects from a variety of noise cancellation modes to achieve optimal low-frequency sound reduction.
A New Sphere of Listening
The perfect-circle charging case is designed to fit right in your palm. And now even smaller and lighter, it slips seamlessly into your pocket, for an easier way to take your music with you.
Sounder Fit
The earbuds are ergonomically moulded to precisely fit your ear, for a shape that feels right every time. And at just 4.1 g2 each, they'll sit naturally and comfortably in your ears, offering an almost weightless way to deeply enjoy music.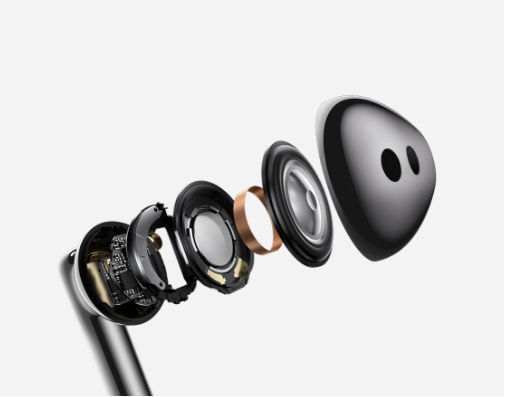 High Resolution Sound
Better bass needs its own space. Each earbud is equipped with its own bass-enhancing power engine for greater diaphragm vibration, generating impressively deep bass you can really feel.
The large 14.3 mm LCP dynamic driver inside each earbud is what helps HUAWEI FreeBuds 4 achieve their extraordinary sound quality. Boasting a frequency range of up to 40 kHz, they'll let you experience the soaring melodies and rich timbres of all your favourite tunes3.
Conduct Your Own Sound
The Audio Connection Center6 in the Huawei AI Life App enables you to manage all devices paired to HUAWEI FreeBuds 4 on a single, easy-to-use screen. Use the app to transfer audio between devices, and coordinate your digital life on the go.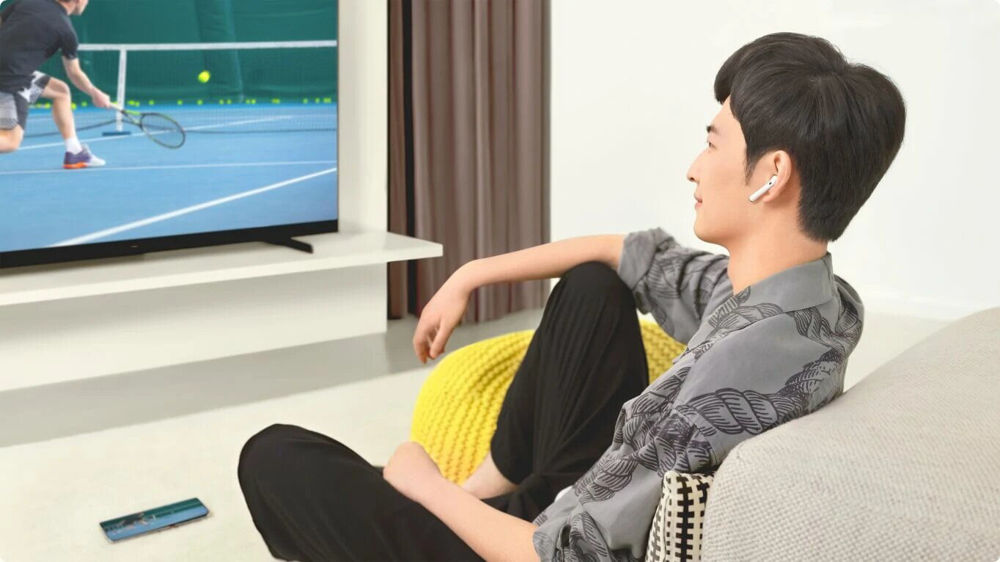 Sound in Harmony with Your Devices
Utilising the multi-device interactive power of HarmonyOS 2, you can transfer video from your phone to a Huawei Vision, laptop or tablet, and the audio to HUAWEI FreeBuds 47. Ensure that late night movies on the big screen are for your ears only.
Magnify Each Memory with HD Recording
Decide the sounds you record with HUAWEI FreeBuds 4 thanks to the dual-mode 48 kHz HD sound recording8. Surroundings Mode lets you recreate whatever environment you're in, picking up the sounds around you in brilliant detail. Voices Mode uses voice frequency recognition technology to hone in onto the specific frequencies of your voice, blocking out extraneous background noises in the process.
Your Moment, Your Music
HUAWEI Music provides a high-quality, fully comprehensive music experience, with a vast music catalogue11 for you to stream, download and enjoy to your heart's content.